I know black men who hate on Oprah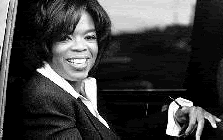 I often wonder why so many black men hate on Oprah so much. Well I guess she is not in the physically beautiful league of a Pam Grier, Lena Horne, Halle Berry, Vanessa Williams, Janet Jackson etc. The above women among many others are the women black men tend to hold up as attractive. It seems that most black men think that physically both Oprah and Whoopi for example are as attractive as a donkey's behind. I think both these women are beautiful in their own right and therefore I don't agree with these men but I understand. In the real world it is in this way most men's preferences are shaped. So I concede on the attractiveness quotient bit.



Oprah however is a woman who, like many black women even if they are only successful at having raised some kids into upstanding contributing citizens, has done wonderfully well for herself, by herself and most importantly with lots and lots of hard work. She has achieved and achieved big and is a mover and shaker in the world. So why no credit for that? Why do most men have to hate on the sistah so much?


Granted I don't agree with everything Oprah espouses. I often find that her politics and mine are diametrically opposite but I understand. I understand her environment, where she has come from and what she has to do achieve. I forgive her because she always intends well and I recognize the good things she does, the good part of all her work that outweighs the bad for the most part.



Does this hate of Oprah by some black men stem from the same place that gave and continue to give Alice Walker good licks for her work in Color Purple, or Toni Morrison in Bluest Eye or Terry McMillan in Waiting to Exhale? It appears once you start to open up the discussion of how men (black men more so) treat their women and ask questions of these men and the status quo, you become public enemy number one?


It seems that black women no matter how successful must bare whatever is her assigned role in private and grin but remain silent in public. Why can't black women with strong voices raise questions about incest, rape and child sexual abuse where the black man is the perpetrator? Why can't they talk about the type of black man who will knowingly father a child and leave the woman holding all the responsibility for it? The type of black man who will start a family and then just ups and leaves never looking back. Why is it blasphemy to talk about black women's experiences at the hands of unreasonable, mean black men (husbands, fathers, boyfriends etc)just because they hold the purse strings? Why is it taboo for women who have powerful voices to deal in the open with violence and abuse suffered by black women at the hands of black men?

I have come to believe that it must be for this reason that some black men hate on Oprah so much. It can't be that they think that she has sold out; there are tons of sucessful black men who care jack shit about black people, who have done fuck-all for any black person after they arrived and they are adored among other black men. They are held up for all they have accomplished.

So what gives?